Reuben Sliders – Now you can have all the goodness of a traditional Reuben sandwich compressed into a handy appetizer packaged in a buttery roll and topped with spices!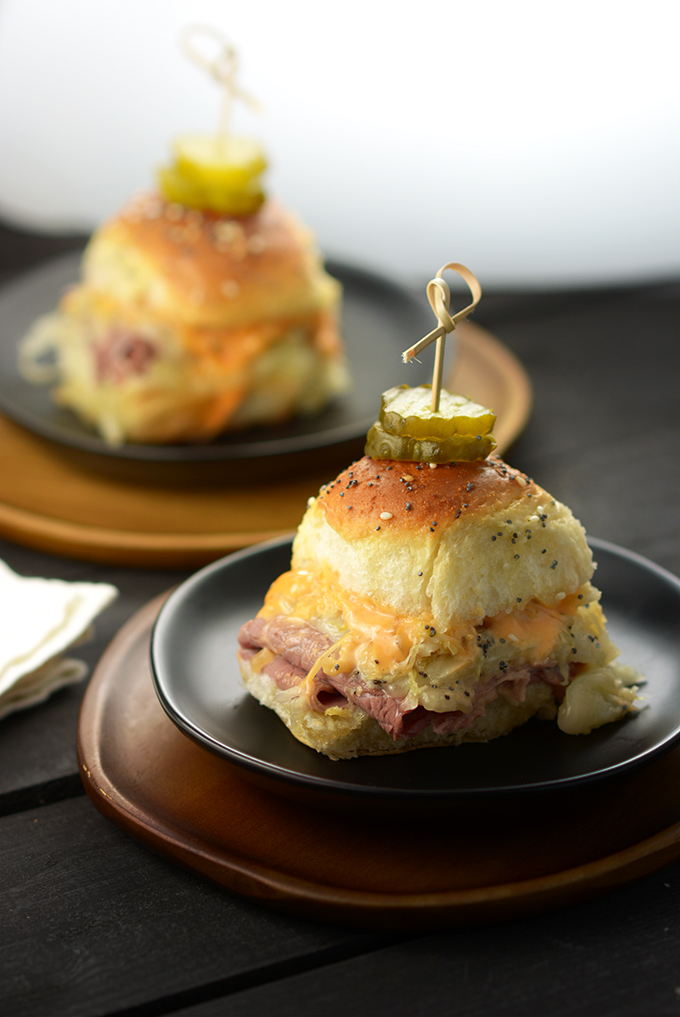 St. Patrick's Day is one of the best holidays to celebrate by going out. I like beer. Not the weird green toilet water they pour in mass quantities on St. Paddy's Day, but I do like a good Irish Red. Funny thing is my maiden name is Kilian, and my natural hair color is red!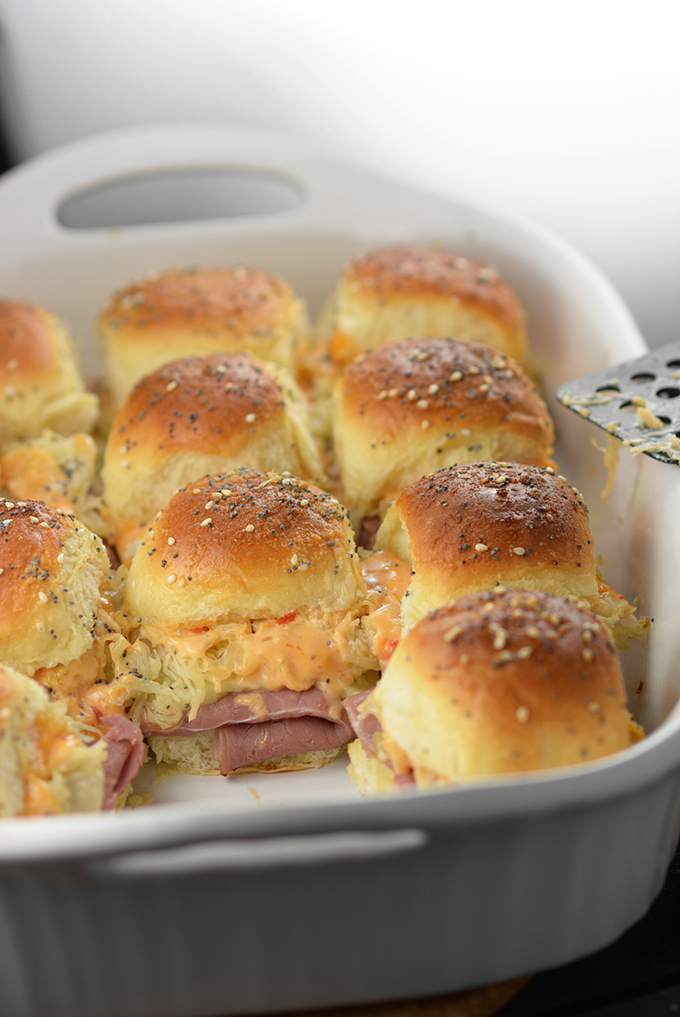 Unfortunately, no one in my home town is going out this year due to social distancing. My community is at the epicenter of the Pennsylvania COVID 19 outbreak. I have to admit, I have had some fear and anxiety because I'm a nurse at the local hospital. Work is about to get really weird… Almost as weird a green beer.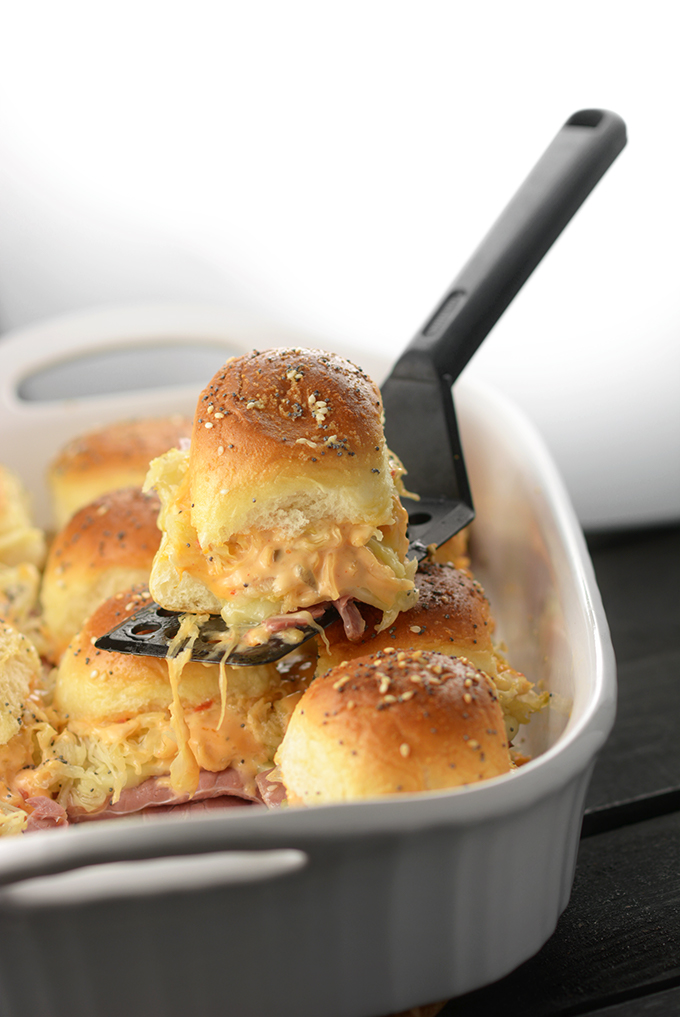 I think a little bit of in-home St. Patrick's Day celebration is exactly what I need to quell (or at least distract me) from my work worries.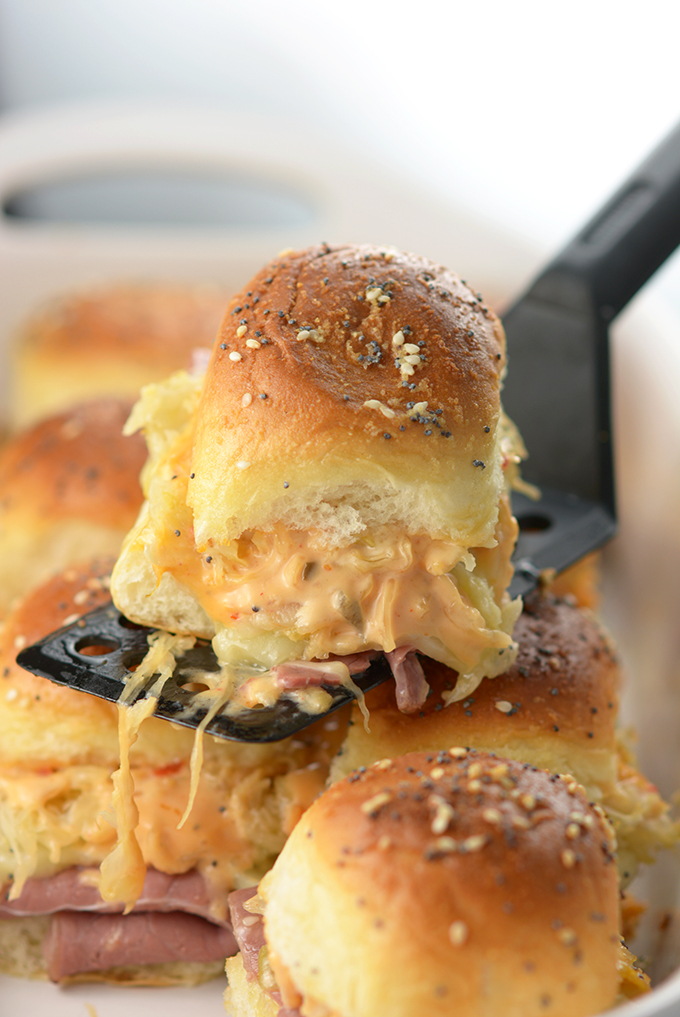 Reubens have long been my favorite St. Patrick's Day food. These Reuben Sliders are now my new favorite Reuben! They are perfect for making with corned beef cold cuts or with your leftover brisket. This recipe is popping with that traditional reuben flavor, and packaged in a buttery roll that's topped with tasty spices.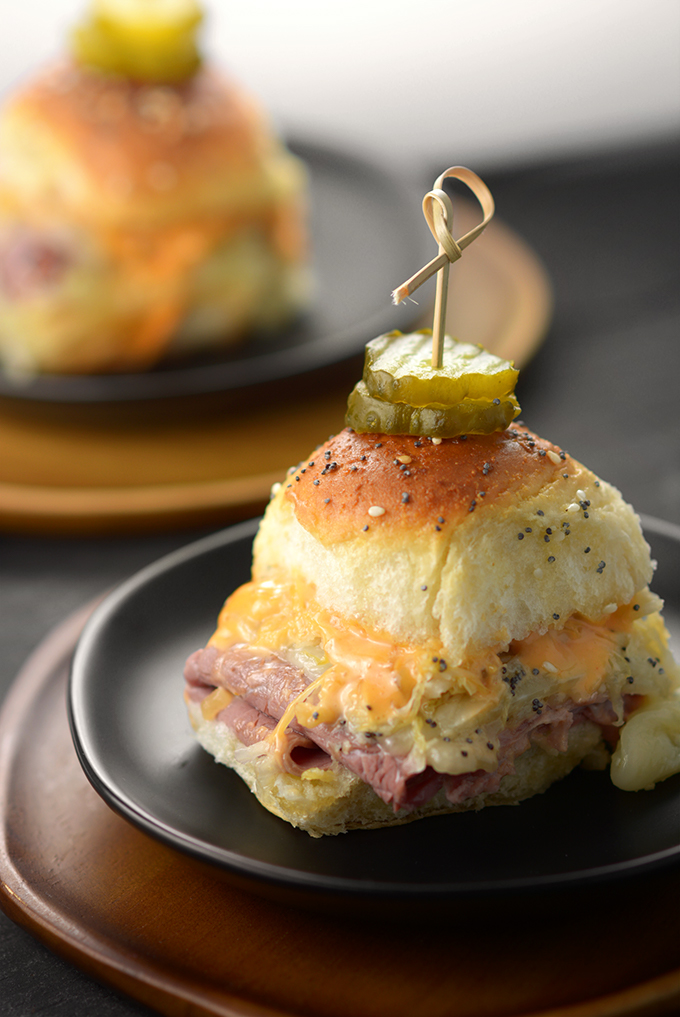 I'd say these sliders are perfect for serving to guests, but not this year! So indulge. Grab a beer or two, or three (preferably not green in my opinion), and a tray of these babies for the best St. Paddy's Day couch crawl ever!
How to Make Reuben Sliders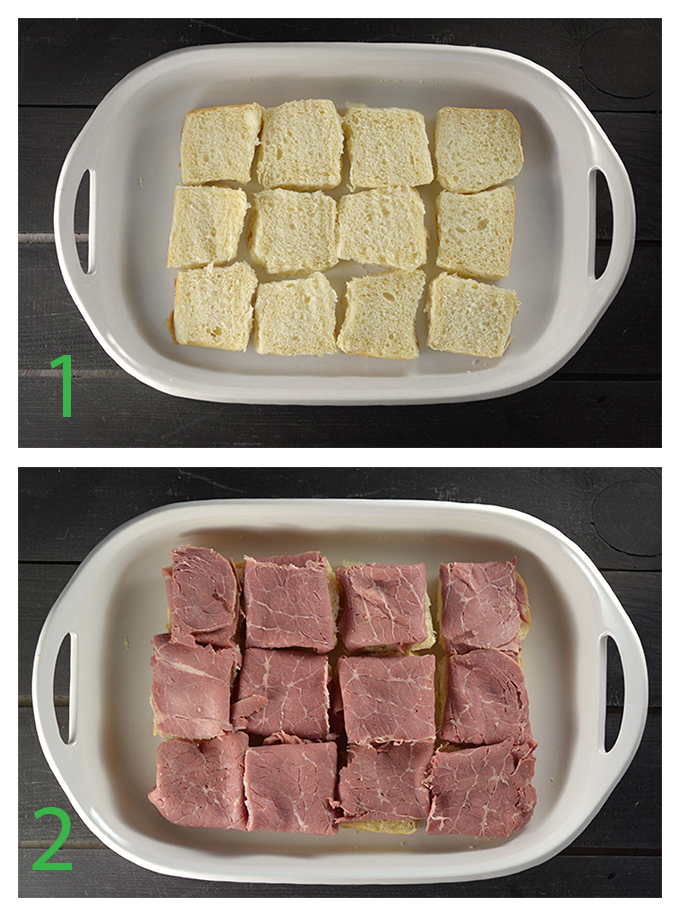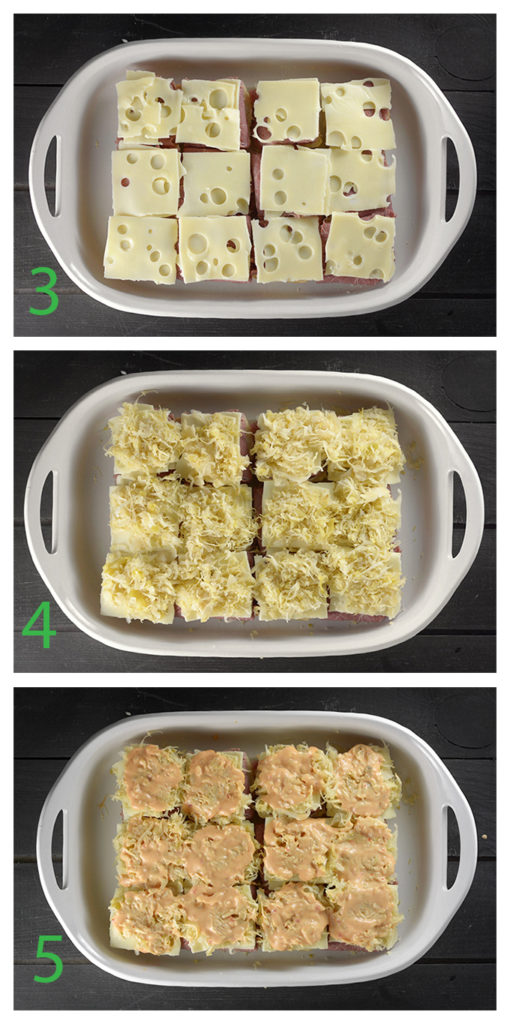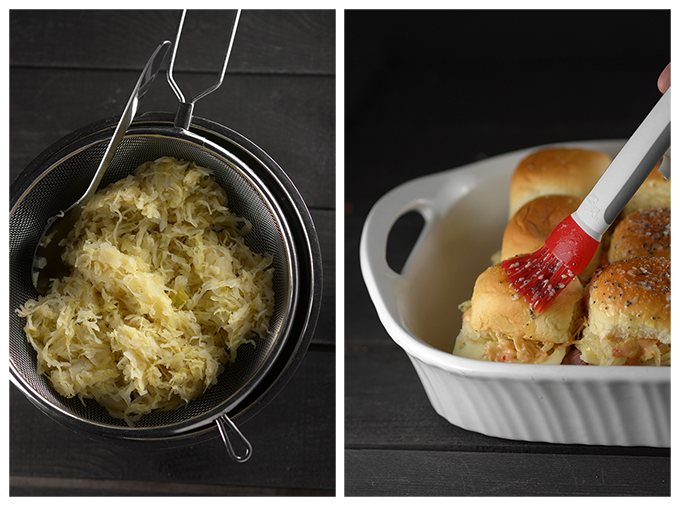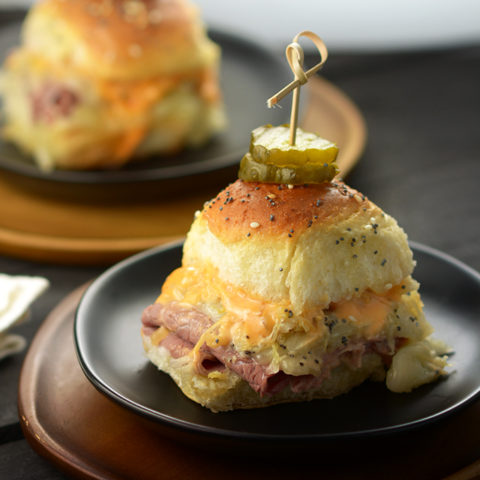 Reuben Sliders
Now you can have all the goodness of a traditional Reuben sandwich compressed into a handy appetizer packaged in a buttery roll and topped with spices!
Ingredients
Sandwich
12 Hawaiian Sweet Rolls or slider buns
3/4 lb (12 oz) deli corned beef, thinly sliced*
1/2 lb (8 oz) swiss cheese, sliced
1/2 C Thousand Island or Russian dressing
1 C Sauerkraut, drained and squeezed dry
Butter Topping
1/4 C butter, melted
1/4 tsp garlic powder
1/8 tsp onion powder
1/2 tsp poppy seeds
1/2 tsp sesame seeds
1/8 tsp salt
Instructions
Preheat oven to 350ºF. Lightly butter the bottom and inside edges of a 9x13 baking dish.
Allow the sauerkraut to drain through a strainer into a bowl. Set aside.
Cut the Hawaiian Sweet Rolls in half, like a hamburger bun. Arrange the bottoms in the baking dish so that they are almost touching.
Fold slices of corned beef into squares that will fit on each of the slider rolls.
Place a slice of Swiss cheese onto each slider, breaking it apart and arranging it on top to fit the slider sized roll.
Evenly divide the sauerkraut over each of the sliders.
Spread Thousand Island or Russian dressing on each slider. This recipe calls for 1/2 C. Use more or less depending on your preference.
Top each slider with the bun tops.
For the finishing touch make the butter topping. Melt the butter in a microwave safe dish at 50% power in 30 second increments until melted. Mix in the spices until evenly combined with the butter. Using a basting brush, coat the tops of each of the sliders with the butter topping.
Bake in a 350ºF for a total of 20-25 minutes. Loosely cover with aluminum foil and bake for 10 minutes. Remove the foil and bake for an additional 10 minutes.
Notes
*You can also use leftover corned beef from St. Patrick's Day. 
**Making Ahead: This recipe can partially be made ahead. Assemble the sandwiches, except for the butter topping, the night before and store covered in the refrigerator. Measure the spice for the spice mixture into a ziplock bag for easy access the next day. When you are ready to serve make the butter topping and top the sliders with it. Bake according to the baking directions above.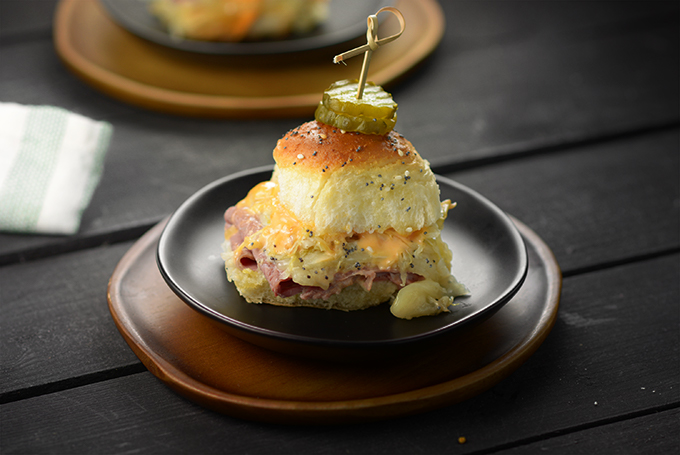 You may also enjoy…