Shaved Asparagus Pasta Salad – Kick off the summer picnic season with this light and tasty pasta salad that features fresh, seasonal asparagus and a yummy tarragon dressing.
Memorial Day weekend is upon us. For international readers, the last Monday in May is a day when Americans remember those who died in active military service. In addition to being a day of remembrance, it also signifies the start of the summer season and much of the country will be grilling and picnicking. Hot dogs and hamburgers are the fare of choice with sides like baked beans and cold salads such as potato and pasta salad. There's nothing more American than a Memorial Day or 4th of July picnic. And much because of the sacrifice of our service men and women, we're able to enjoy it in safety and prosperity.
In the northeastern part of the country where I live, the growing season is just beginning. For a pasta salad, I chose to usher in the picnicking season with a simple shaved asparagus salad. It's coated in a lemon tarragon dressing which makes it cool, fresh and light. I tested this one out on my husband and he's a big fan.
For my American readers:
Happy Memorial Day and picnicking from Dan and Rachel at Simple Seasonal!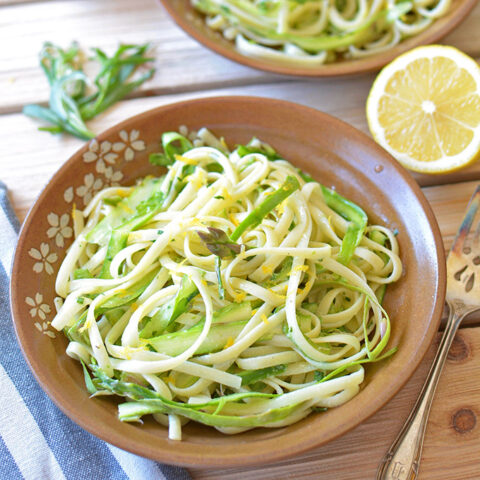 Shaved Asparagus Pasta Salad
Yield: 8 servings

Prep Time: 30 minutes

Cook Time: 10 minutes

Total Time: 40 minutes

Kick off the summer picnic season with this light and tasty pasta salad that features fresh, seasonal asparagus and a yummy tarragon dressing.
Ingredients
16 oz linguine
2 lbs asparagus
6 quarts of water plus 2 tsp of salt for pasta
Lemon Tarragon Dressing
1/4 C vegetable oil
1/4 C sour cream
1/4 C lemon juice
zest of 1 lemon
1/8 C fresh minced tarragon
1 tsp sugar
1/2 tsp salt
fresh cracked pepper to taste
Instructions
Bring 5 quarts of water to a boil and then add the 2 tsp of salt to the pot once boiling. Cook the pasta according to the al dente package instructions, adding 30 seconds to a minute. (You're going for soft and chewy pasta, but not too hard nor too mushy).
While the pasta is cooking, whisk together your dressing. Note that using fresh tarragon in this recipe really does make it.
Once the pasta is done cooking, drain, but DON'T rinse it. Give it some gentle stirs to cool it down a little, and prevent it from sticking.
Once the pasta is cool enough to handle but still a bit warm, add it to a bowl, pour your dressing over the pasta, and mix together. Because you're adding the dressing while the pasta is warm, it will absorb some of the dressing and be much tastier in the end. Place in the refrigerator to begin chilling while you prep your asparagus.
Wash and cut the tough ends (where you see the color change from pale to a deeper green) off of your fresh asparagus just as if you were prepping it to cook. To shave the asparagus use a vegetable peeler by placing the asparagus flat on your cutting born and shaving down from the stem tip of the vegetable. After you shave down the asparagus to almost the end it is easier to shave buy putting it on the edge of your cutting board, so that your peeler is hitting the board as you peel. In the end you will be left with one thicker piece which should be reserved for using in another dish or discarded. Note: the shaving process is easier with larger, thicker spears of asparagus, so consider this when you're shopping.
Once your done shaving the asparagus gently, evenly mix it in with the pasta and dressing. Chill for at least an hour before serving.
If you enjoyed this recipe, you may also enjoy…