Sweet Pea Crostini – This light and fresh spring appetizer is the perfect way to whet your Easter appetite (without spoiling your dinner).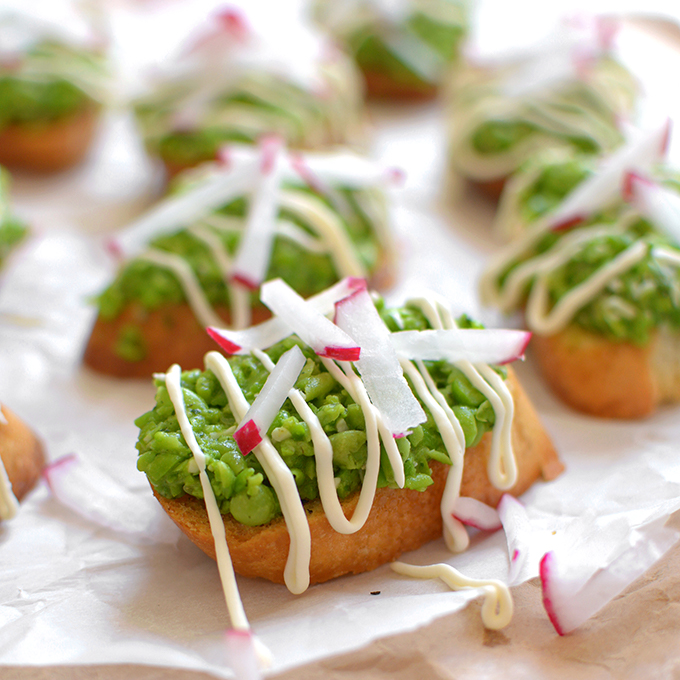 Spring is in the air and it's promising to be in full bloom in time for Easter Sunday. Last week I saw the first robin of the season bopping around in pursuit of worms and soon after a bunny appeared hopping along outside our back patio. The bunny has decided to stay and my six-year-old says that he's looking for places to hide he and his baby brother's Easter baskets. Perhaps… But I haven't seen any Easter bunny jellybean poops out back, so I guess he's just a regular, but very cute, rabbit.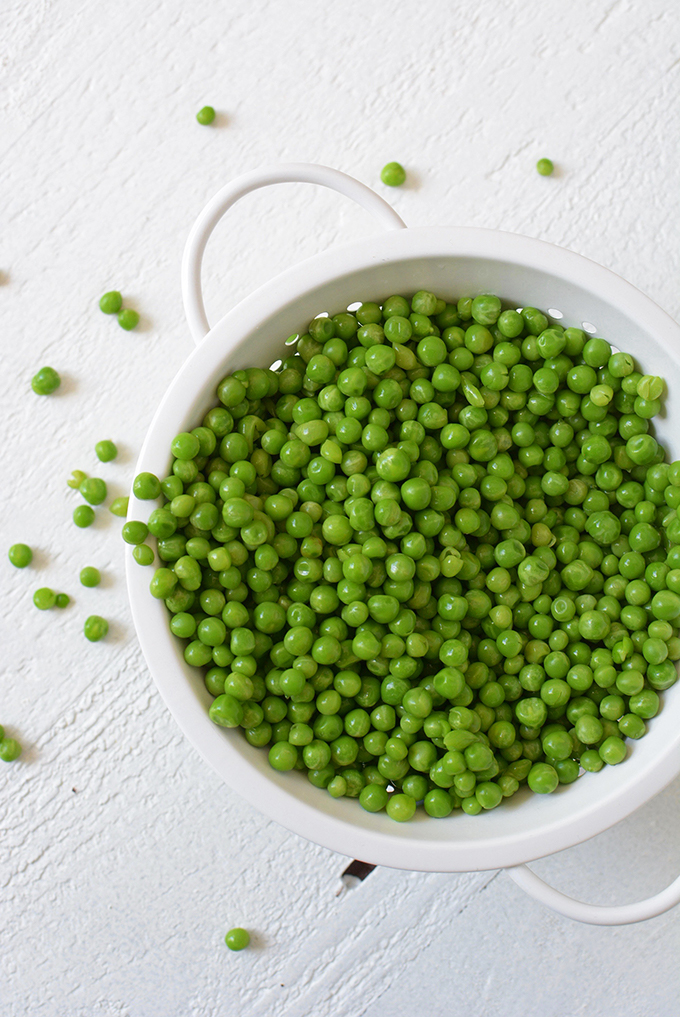 Aside from it being my baby's first Easter, I'm excited for the holiday because I don't have to work. That means lots of time for egg hunts, dyeing eggs, spring crafts, cooking, and visiting with family. One fun activity I recommend doing with your kids is this fun and easy idea for turning some of those plastic Easter eggs into a toy for your little chef's play kitchen. On Easter morning I'm thinking about making my family a batch of my Carrot Cake Pancakes for devouring after they find their baskets that I'm sure the Easter bunny will so aptly hide.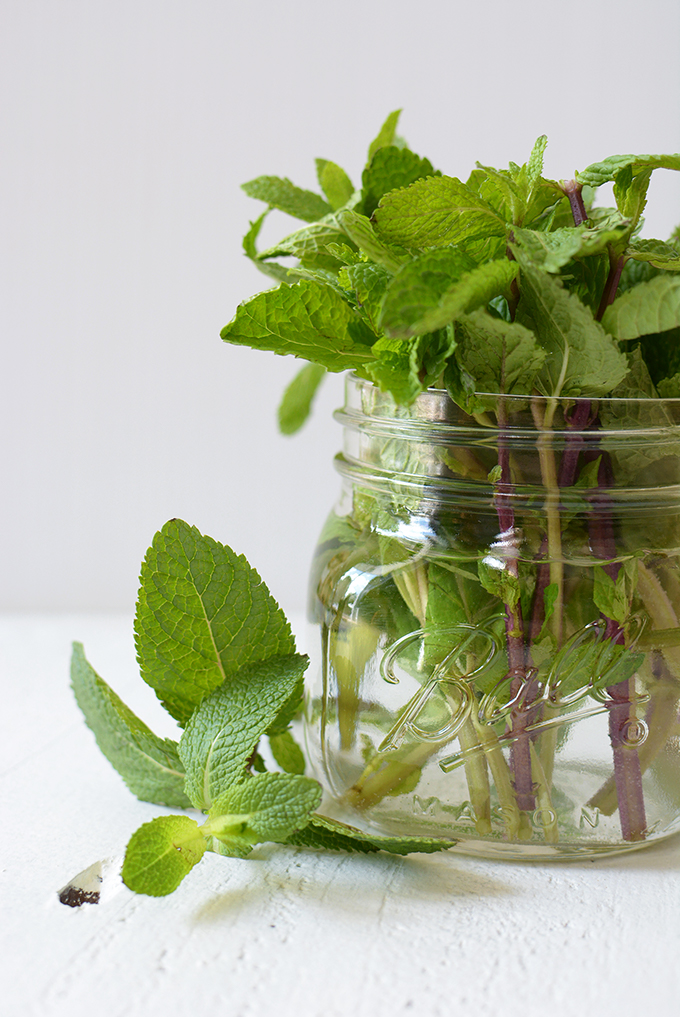 Then it will be time to head over to my parent's house for a delicious family dinner. In addition to my mom cooking an amazing meal, our family always has a spread of appetizers which I usually help my Mom make. The problem is that some of us tend to eat a few too many appetizers and end up spoiling our dinner… For this year's appetizer I was thinking of taking the light and fresh route, which is fitting for the spring season and shouldn't spoil too many dinners!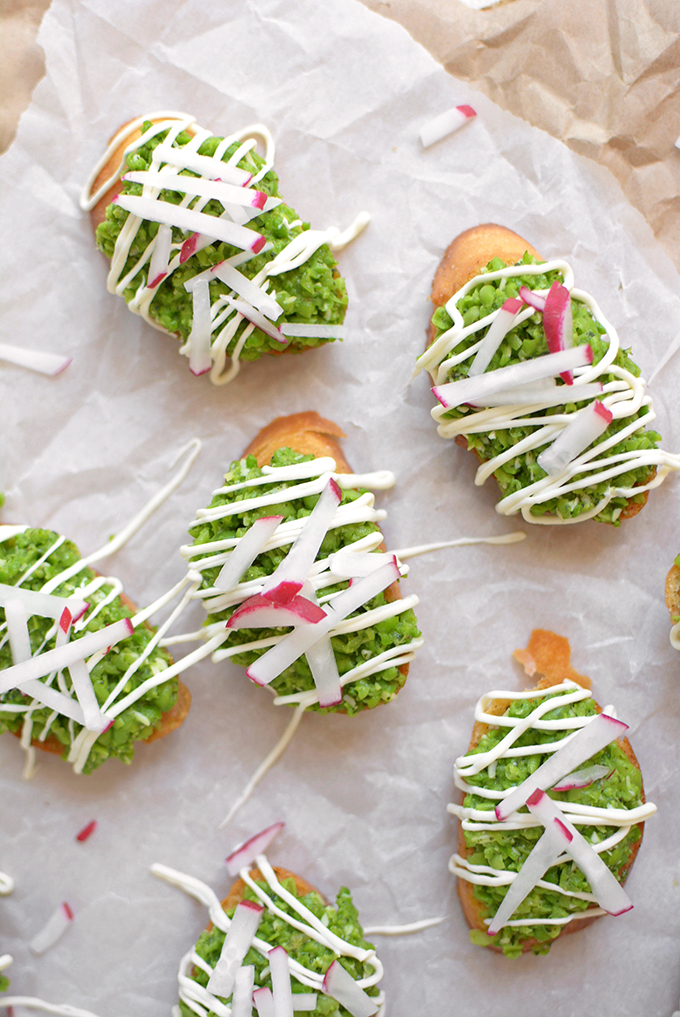 This recipe for Sweet Pea Crostini is just the ticket for an appetizer that's fresh, springy, and light. The blend of peas, mint, and crème fraîche is cool and fresh. At 128 calories per serving I'm not too worried about them spoiling dinner either. My husband says they look like Easter eggs (totally unintentional), which is festive addition to your spring party alongside all those treats the Easter bunny is bringing your way!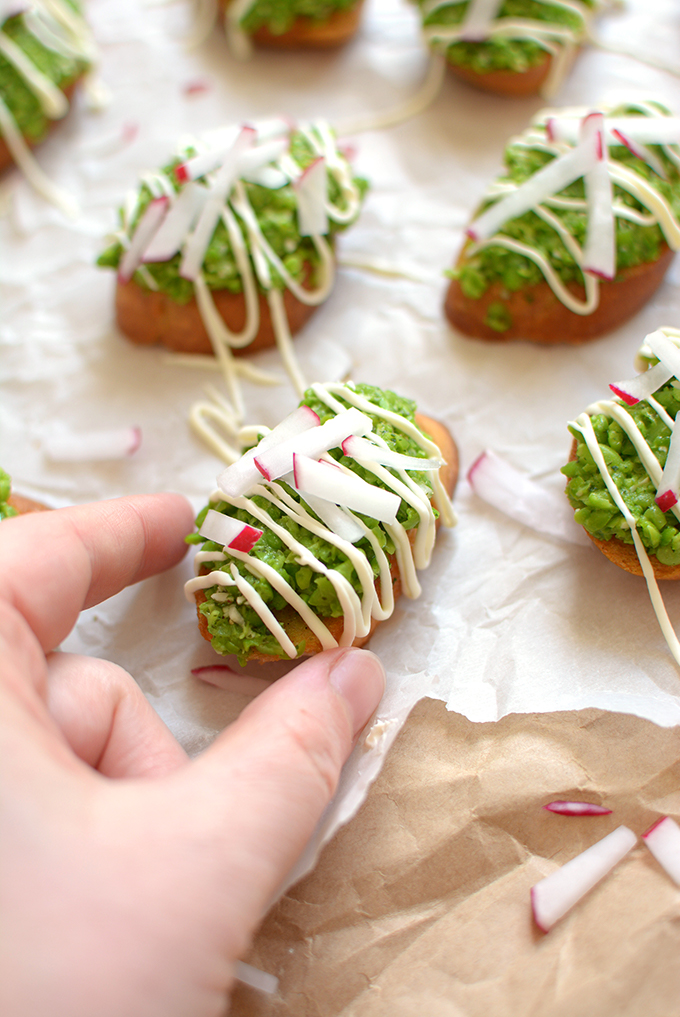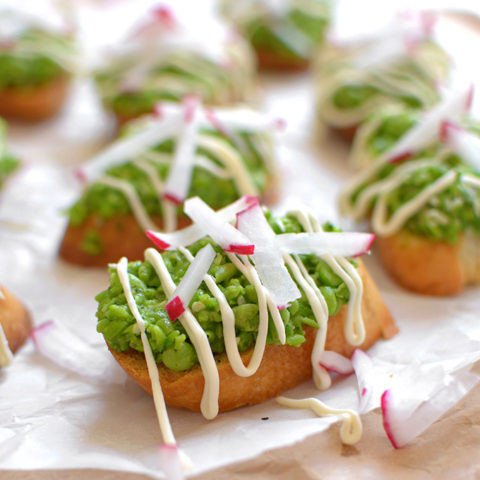 Sweet Pea Crostini
Yield: 12 servings

Prep Time: 15 minutes

Cook Time: 15 minutes

Total Time: 30 minutes

This light and fresh spring appetizer is the perfect way to whet your Easter appetite (without spoiling your dinner).
Ingredients
2 C frozen green peas, thawed
3/4 C loosely packed fresh mint leaves
1/2 C olive oil evenly divided
1 Tbsp white wine vinegar
1/4 tsp salt
1/8 tsp black pepper
3 Tbsp grated parmesan cheese
1 French baguette cut into 24 1/4 inch slices
1/4 C crème fraîche
3-4 radishes cut into match sticks
Instructions
Preheat oven to 350ºF. Cut a French baguette into 24 1/4 inch slices. Using 1/4 C, or half of the olive oil, lightly brush both sides of each bread slice with the olive oil. Season with salt and pepper as desired. Bake for 15 to 20 minutes, or until golden brown.
Meanwhile, add the remaining 1/4 C of olive oil, the mint leaves, parmesan, white wine vinegar, salt and pepper to a food processor. Blend until the leaves reach a consistency similar to pesto. Next, add the sweet peas to the food processor and blend until chopped.
To assemble the crostini, place one generous teaspoon of the pea mixture on each crostini. Scoop the crème fraîche into a ziplock bag and cut a small hole in one of the quarters and drizzle the crème fraîche onto each individual crostini, in a similar fashion as piping icing. Sprinkle each crostini with the radish match sticks. Serve immediately.*
Notes
*Can be made one day ahead - Toast the crostini and store in a ziplock bag. Mix the sweet pea mixture and store in a sealable container in the refrigerator. Assemble just before serving.

One serving is two crostini.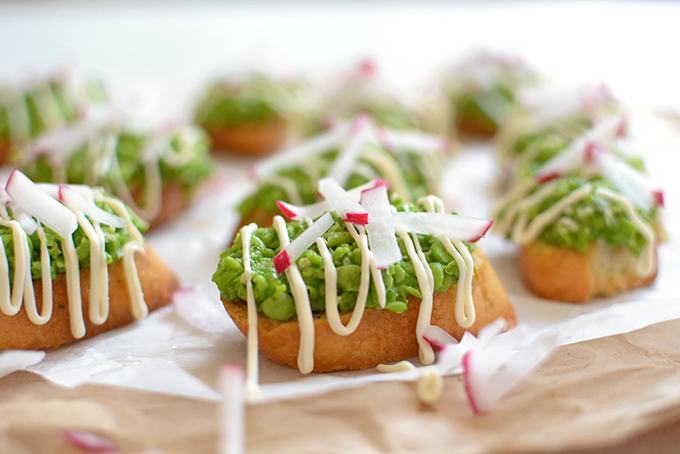 If you enjoyed this recipe, you may also enjoy…