Chili Apricot Kielbasa – Made using only three ingredients, this quick, no-fuss Asian-American fusion meal will be a sweet and tangy comfort on a busy weeknight!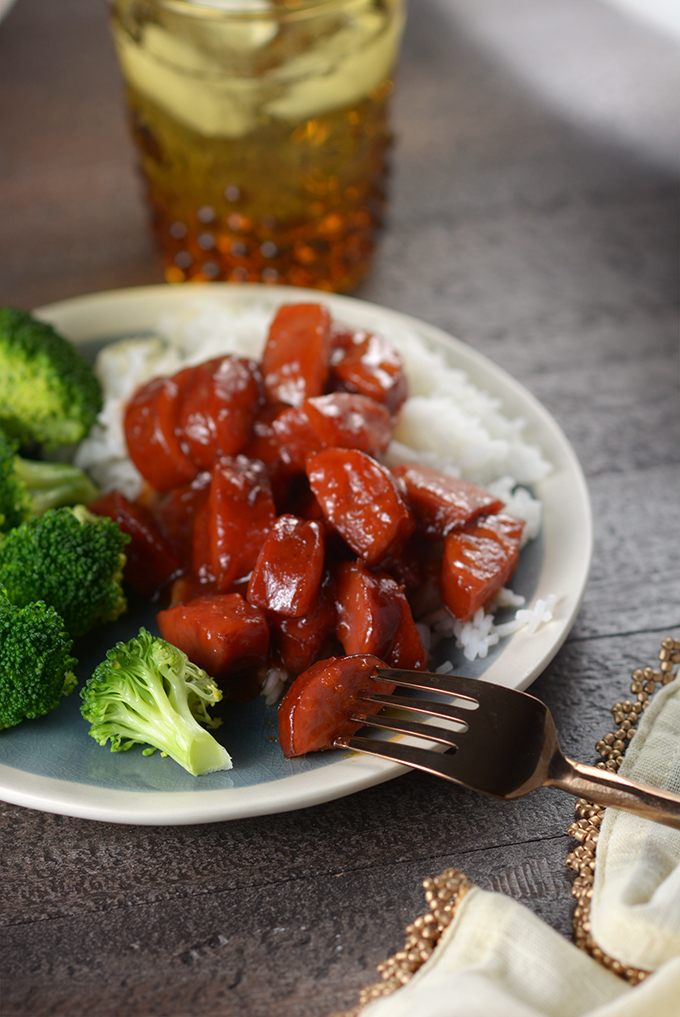 Recently it occurred to me how paperless my life has become. I used to get excited every January when I'd buy a new spiral bound weekly planner. For a number of years I resisted using a PDA (a.k.a., personal digital assistant). Remember those? People used to carry PDAs and cellphones separately! Then my husband and I got iPhones, I discovered the magic of linking our calendars, and I was hooked. I still think there's something romantic about a paper planner, but it's just not cutting it for coordinating my busy family, work, and now grad school calendars.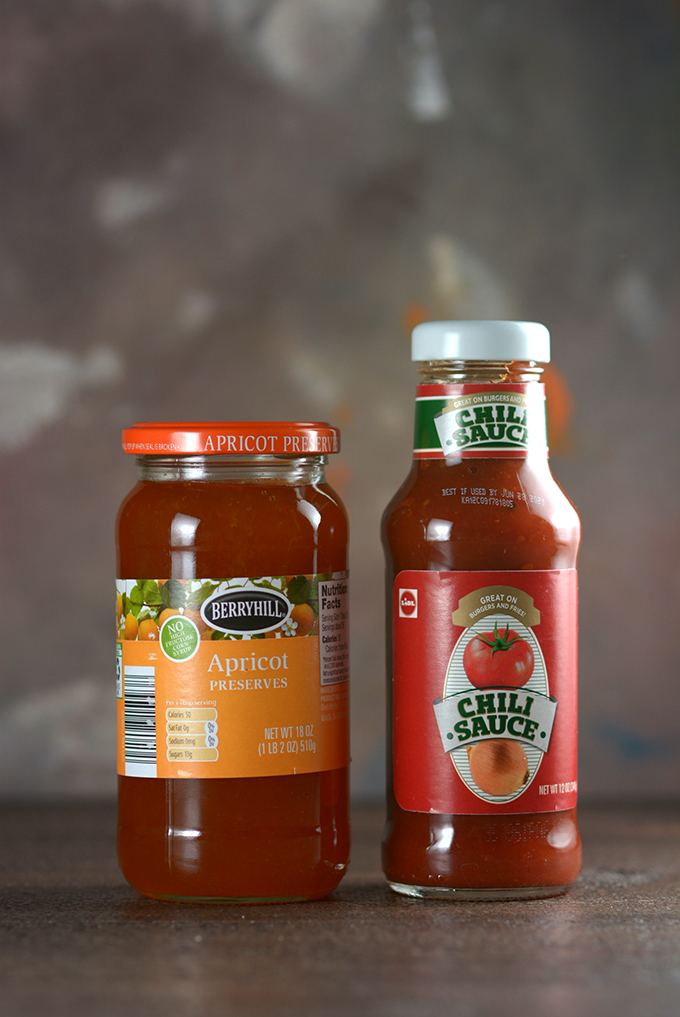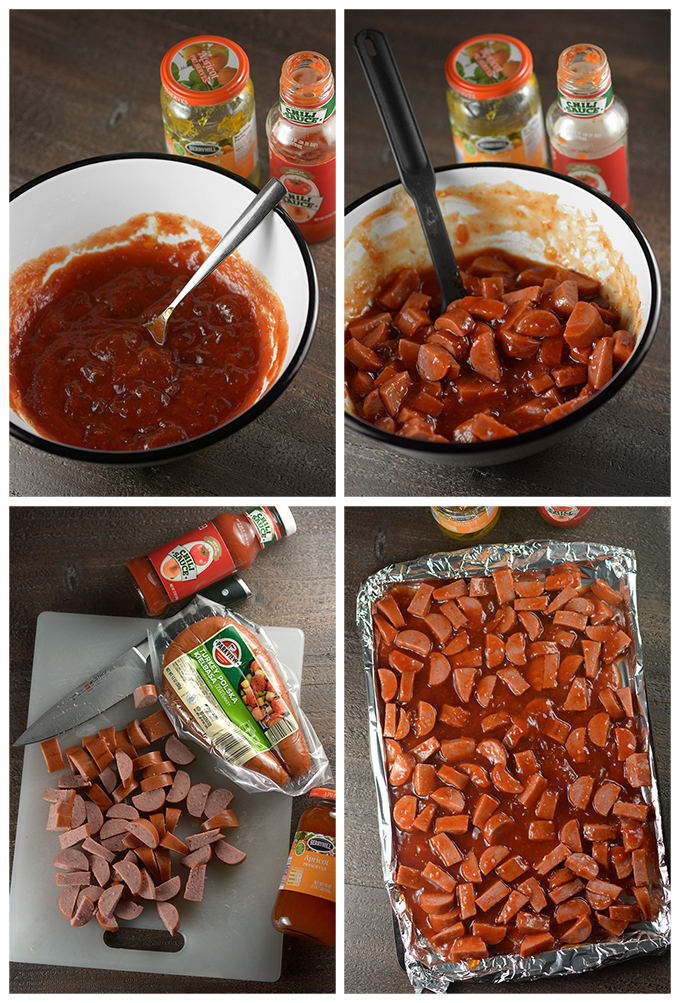 After being out of school for nearly a decade, I decided to go back and earn a degree to become a nurse practitioner. Back when I graduated from nursing school in 2009, nursing informatics was just starting to take off. Learning still involved in-person lectures and most students took notes by hand. Even going to the library involved looking up books and periodicals in a digital card catalog, finding them on the shelf, photocopying them, and then lugging them home. It was incredibly inconvenient. Sometimes the college library didn't have what I needed and I had to wait a few days to get a book delivered from another library! Now, my classes are 100% virtual, and just about every resource my heart could desire is one click away from the comfort of my living room. I've exchanged photocopies for PDFs, and once again, I'm hooked!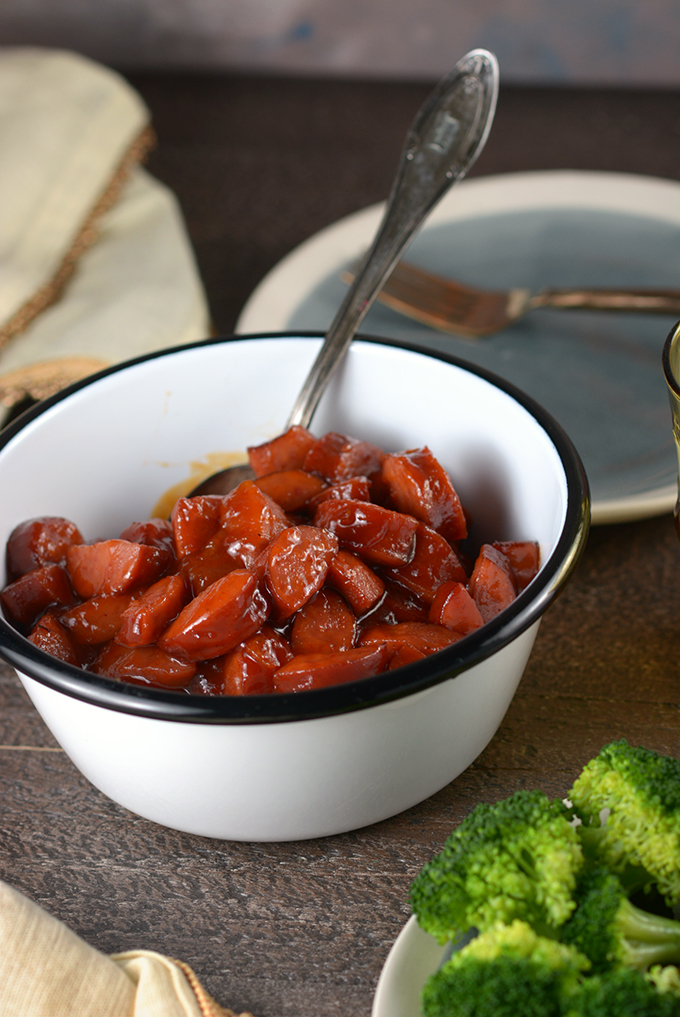 This week the hospital I work at just got a new electronic medical record (EMR). The one we had before was an EMR, but it was from like 2010, and it was pretty simple. I still had to do crazy things like write labels for my lab specimens by hand, and I had to write my to-do list on a piece of paper for each patient. The new one digitally connects and tracks everything. I'm fairly certain that I'm going to forget how to write with a pen in a few weeks! Right now I'm still at the frustration stage with the new technology, but I think I'm going to be hooked in a few weeks!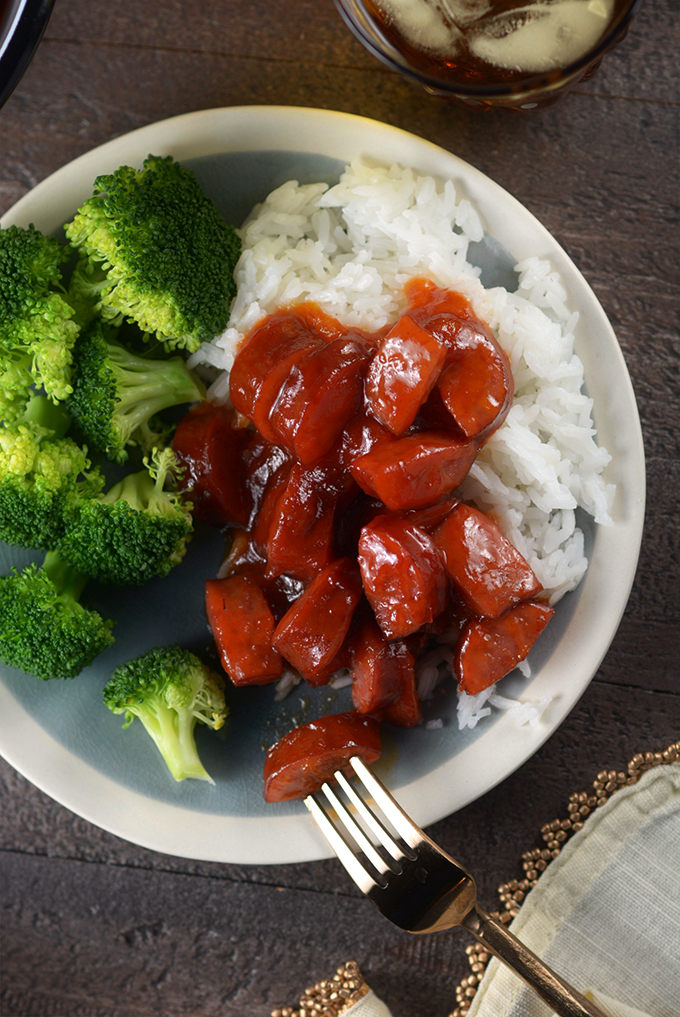 I own four cookbooks and I have a subscription to one food magazine. Growing up, my mom had stacks of cookbooks and recipe magazines, to the point that they created enough clutter to stress me out. Despite the chaos, mom found some great recipes by flipping through pages and pages of recipes.
I've been eating today's recipe since I was a kid and I'm pretty sure she got it from a paper recipe mountain. At this point, finding the source would be like trying to find a needle in a haystack. It doesn't matter, though, because it's one of the simplest recipes I make and it's impossible to forget. No need to write it down! Consisting of only three ingredients, I'm pretty sure it's one my memory can handle.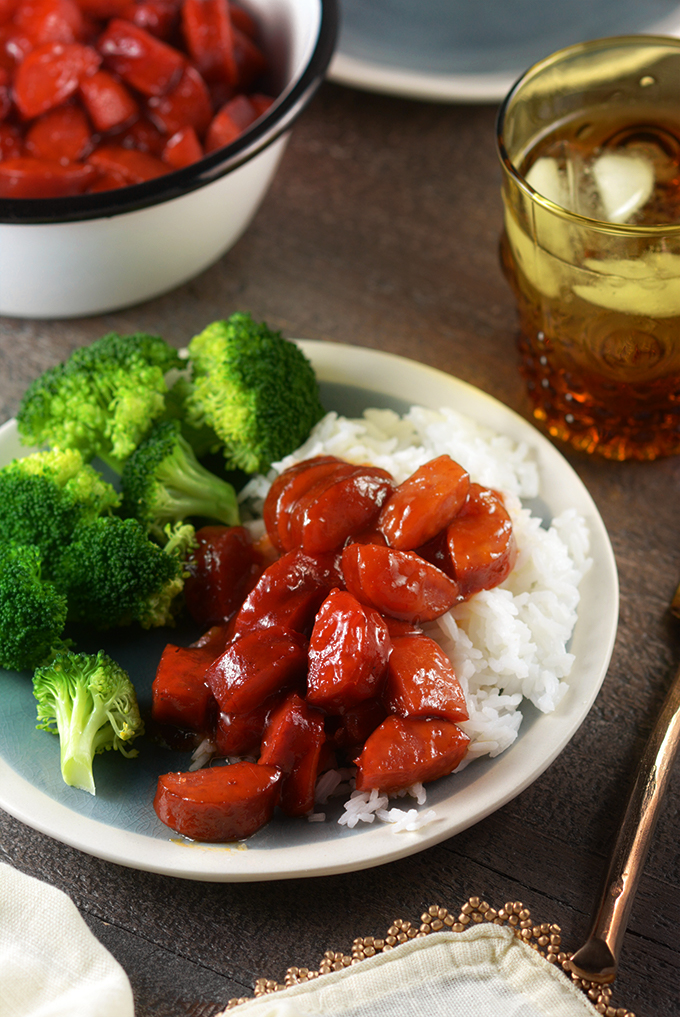 This Chili Apricot Kielbasa is sweet, a little spicy, and tangy. I'm going to go with it tasting Asian, but it's made with kielbasa, so it's got an American fusion thing going on. The finger-licking good flavors are a favorite in my home. Because it's such a simple recipe, it's one that's on my regular rotation of busy working mom weeknight meals. It's one worth typing into your family meal calendar!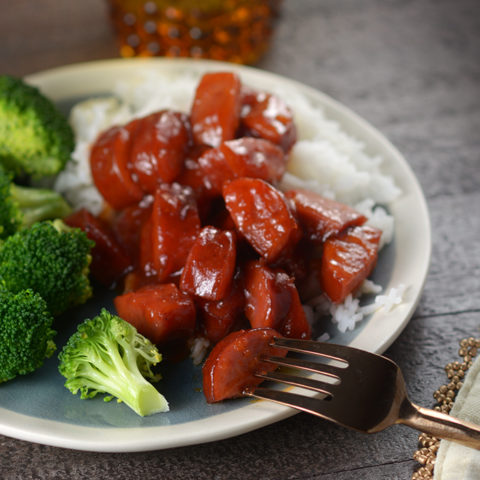 Chili Apricot Kielbasa
Made using only three ingredients, this quick, no-fuss Asian-American fusion meal will be a sweet and tangy comfort on a busy weeknight!
Ingredients
2 13 oz packages kielbasa*
1 18 oz jar apricot preserves
1 12 oz jar chili sauce
Instructions
Preheat oven to 400ºF. Line a small baking sheet with aluminum foil so that a single sheet of foil covers the entire pan.
Stir together the apricot preserves and chili sauce in a mixing bowl. Slice the kielbasa into bite-sized pieces and add to the mixing bowl, completely coating the meat with the chili apricot sauce.
Transfer the coated kielbasa to the baking sheet.
Cook in a 400ºF oven for 30 minutes, stirring midway.
Serve hot. I recommend serving with rice and steamed broccoli.
Notes
*Use Polska Kielbasa for a more savory dish, and use Turkey Kielbasa for a healthier option.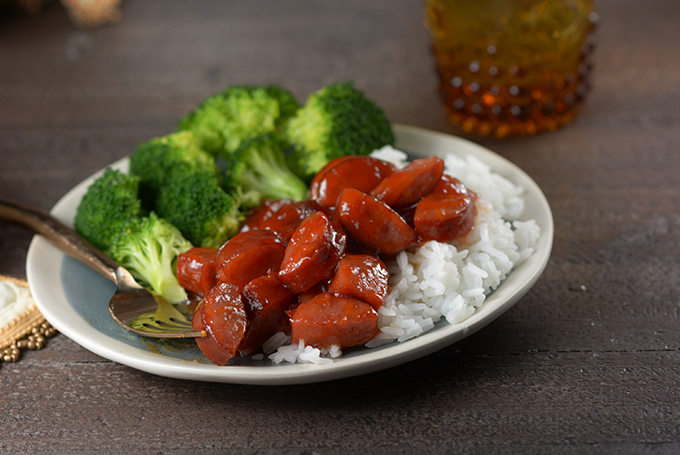 You may also enjoy…