Cheddar Cauliflower and Roasted Garlic Soup – Get your veggies and your comfort food fix at the same time with this hot, creamy, and wonderfully flavorful soup!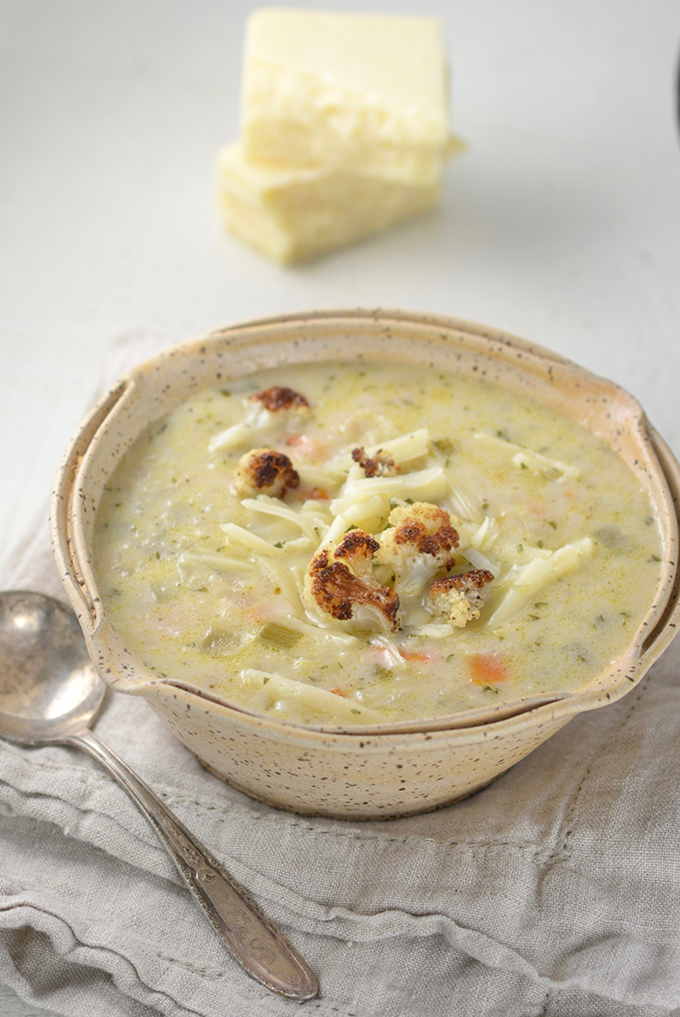 This past fall I had an epiphany. I realized that for an entire year I only cooked cauliflower one or two times. It's not that I have anything against cauliflower, in fact it's one of my favorite vegetables. I just forgot to make it. This triggered a cauliflower renaissance during which I developed a number of new recipes, and I even skirted on making it a little too much!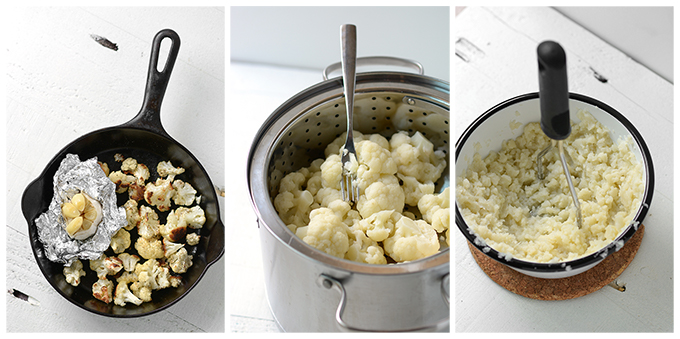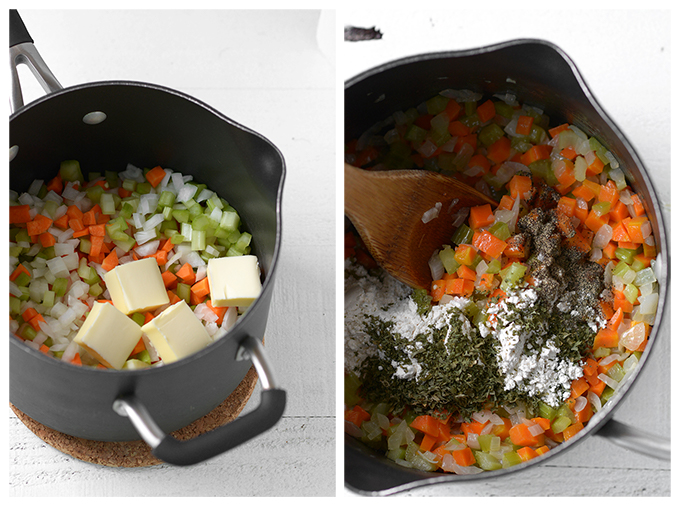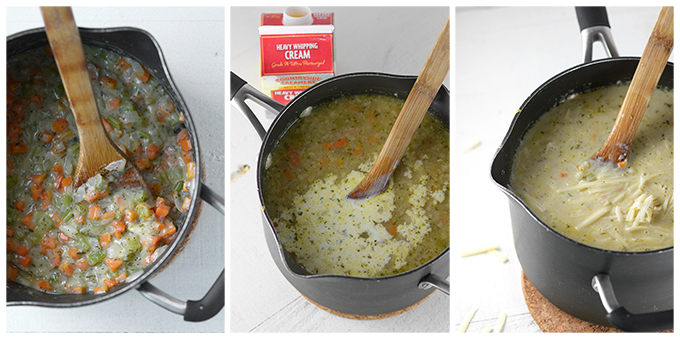 One such new recipe was a Cheddar Cauliflower and Roasted Garlic soup. This creamy soup is a comfort food that's packed with flavor and veggies! The secret to making this soup so good is that it's flavored with roasted garlic and herbs.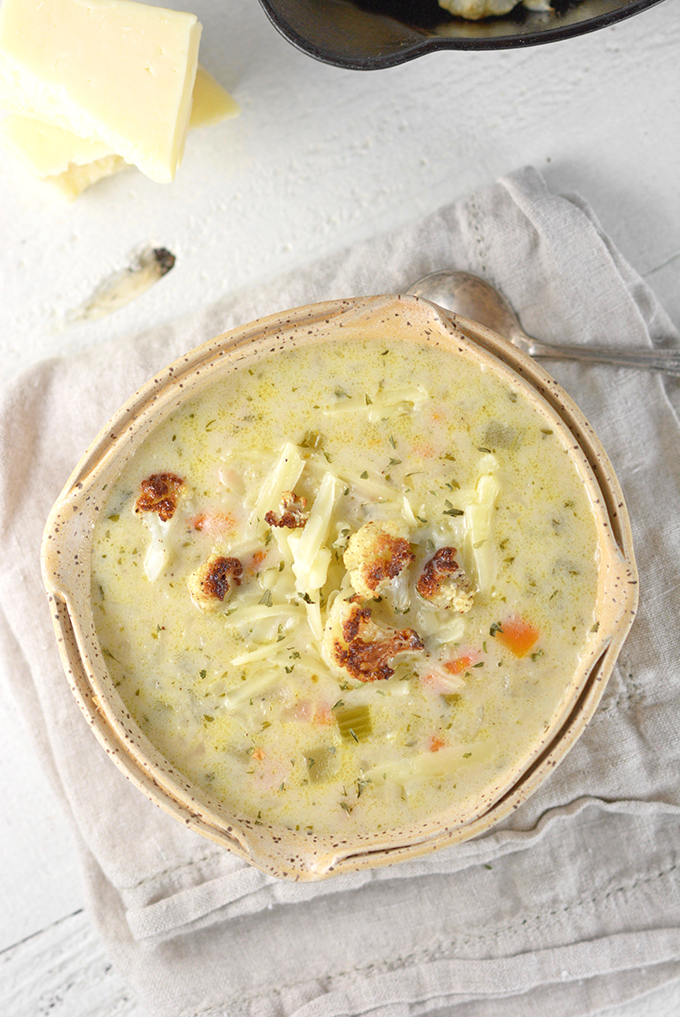 The cauliflower is steamed until it's ultra soft, then mashed to add to the creaminess and texture of the soup. Although not a dieter's soup by any extent of the imagination, preparing the cauliflower in this way helps to make a creamy, comfort food soup that is lower in carbs and fat than most.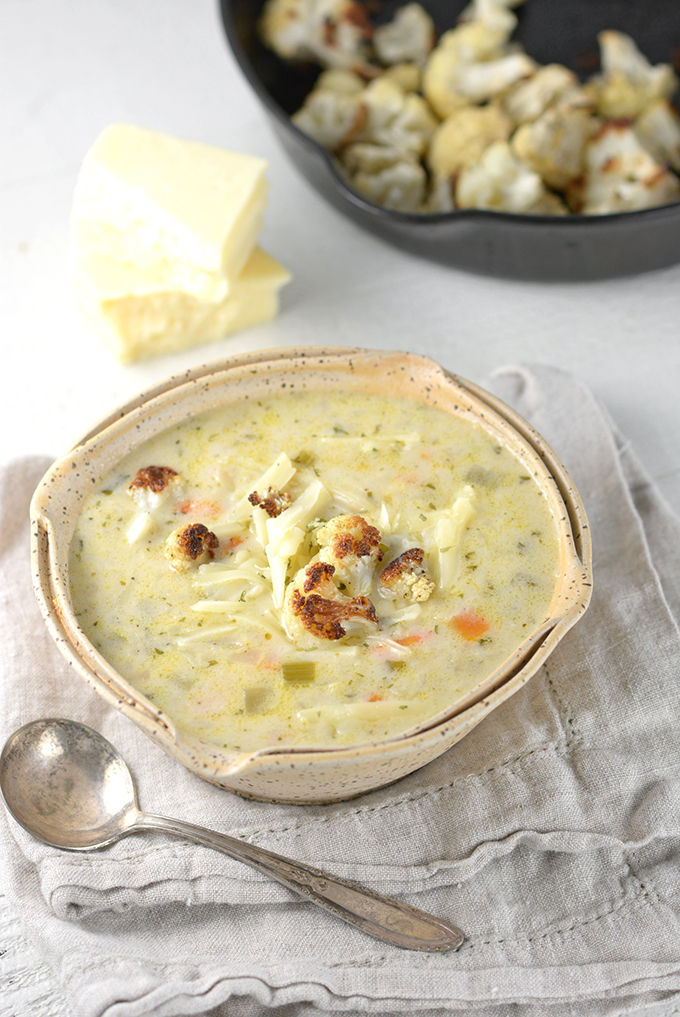 Perhaps you're not on a cauliflower renaissance like me, but you can still enjoy this delicious soup that will leave you wanting more cauliflower!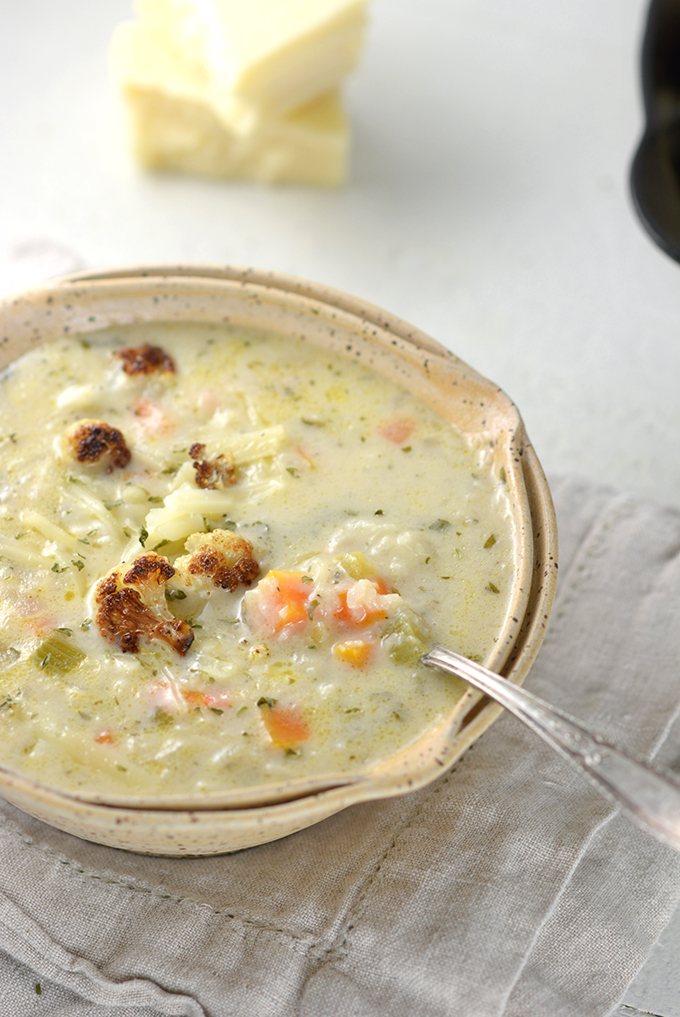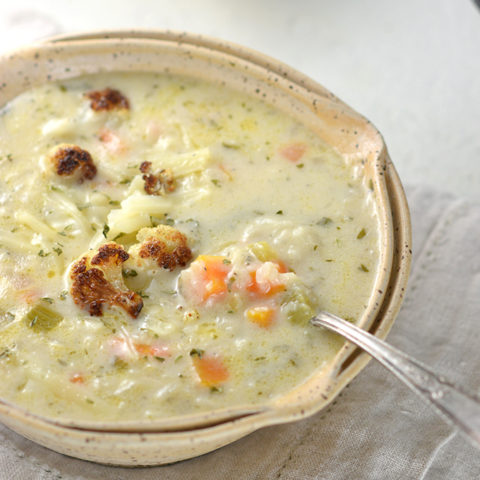 Cheddar Cauliflower and Roasted Garlic Soup
Total Time:
1 hour
25 minutes
Get your veggies and your comfort food fix at the same time with this hot, creamy, and wonderfully flavorful soup!
Ingredients
2 medium heads cauliflower, cut into florets and divided
1 head garlic
1/2 tbsp plus 1/2 tsp olive oil, divided
4 Tbsp butter
1 1/2 C diced carrots
1 1/2 C medium chopped sweet onion
1 C diced celery
1 Tbsp dry parsley
1 tsp pepper
1/3 C all-purpose flour
6 C chicken or vegetable broth
2 cubes chicken or vegetable bouillon
1/2 C heavy cream
3 C shredded sharp white cheddar cheese
Instructions
Preheat oven to 400ºF.
Prep the cauliflower. Remove the leaves and large stem, break the head up into its individual florets, and wash it under cool water. Place about 1 1/2 lbs (approximately 7 cups) of the cauliflower into a steamer basket. Steam for 15-20 minutes or until the cauliflower is very soft. Pour the steamed cauliflower into a medium mixing bowl, making sure any water is drained off. Smash with a potato masher and set aside.
While the cauliflower is cooking, roast the remaining cauliflower and the garlic. Toss the cauliflower on a baking sheet or other oven-safe dish with 1/2 Tbsp of olive oil, and salt and pepper to taste. Slice the top off of one head of garlic and drizzle the top with about 1/2 tsp of olive oil. Wrap the head of garlic in aluminum foil. Roast both in a 400ºF oven for 30 minutes or until soft. Once done, allow the garlic to cool until you're able to safely handle it. Squeeze the roasted garlic out of the bulb, working from the root of the garlic to the top. Set aside.
Melt 4 Tbsp of butter in a large pot over medium heat. Add the diced carrots, chopped onion, and diced celery to the pot. Cook until the onions are translucent, which will take 3-5 minutes.
Add the parsley, pepper, and all-purpose flour to the pot and stir until evenly combined. Cook for 1 minute.
Slowly add the broth to the pot while constantly stirring to prevent the flour from clumping. Once evenly combined, add 2 bouillon cubes and the smashed cauliflower. Simmer for 15 minutes, stirring occasionally, until the carrots and celery are very tender.
Turn the heat to medium-low. Stir in the roasted garlic and heavy cream. Heat until steaming hot - but not boiling or simmering - as overheating may cause the cream to curdle.
Remove from the heat and mix in the shredded cheddar cheese. Serve immediately.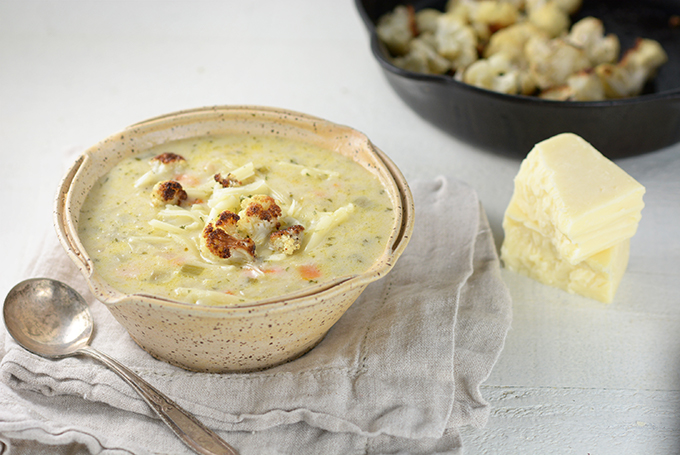 You May Also Enjoy…