Hungarian Mushroom, Leek, and Kale Pilaf – This hearty side has the creamy and savory goodness of Hungarian soup but it's a little lighter for warmer days, and brightened up with fresh spring leeks and kale!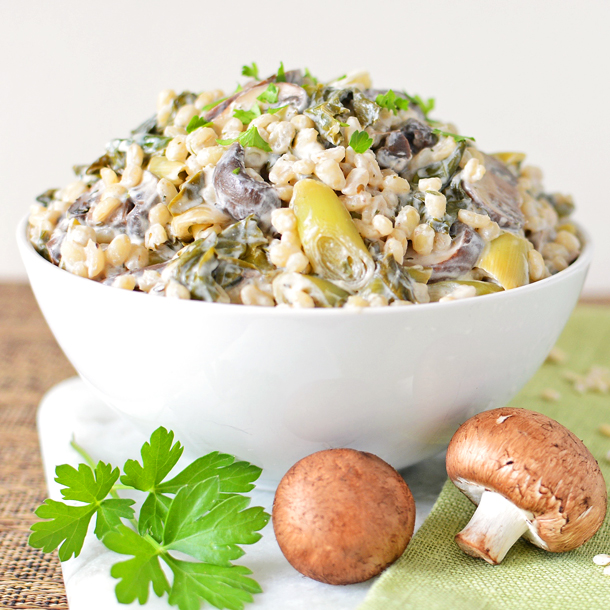 I have long been part of the nursing weekend program drudgery. Some might say that working weekends is awesome because you get most of the week off, which is true in some senses, but it seems that all of the fun things happen on a weekend.
When I was in nursing school a well-seasoned nurse presented this aspect of the job as a "perk," because "you have an excuse to get out of all of the things that everyone feels obligated to attend, but would rather not waste their time on, and no one thinks the less of you."
After being a nurse for a few years I have to say that I disagree. I love going to EVERYTHING! From baby and bridal showers, to little kid birthday parties, cookouts, dinner parties, and work parties. What can I say, I like a good time! By the way, if you know me, I'm currently accepting invitations to all parties.
This past year I cut back my hours from three 12+ hour shifts 3 weekends a month to two 8 hour shifts two weekends a month. I did this in order to spend more time with my family, and with that decision rediscovered weekend fun!
One thing in particular that I felt I was really missing out on was our local farmer's market that started a few years ago. The Lansdale Farmer's Market has grown into quite the affair with local vegetable and meat farmers, coffee roasters, bakers, and a variety of other local vendors.
A couple of weeks ago, for the first time, I was able to check out what all the farmer's market fuss was about. It was perfect timing because the summer season for my CSA doesn't start until the beginning of June and I was dying for some fresh, quality produce (this means I wasn't cheating on my CSA).
I found a number of treasures including fresh greens, leeks, mushrooms and fiddleheads. The more exotic items were definitely my biggest source of excitement, and I'll be going back again this summer to supplement with the few unusual things I won't find in my CSA box.
Today's recipe is a spin off of Hungarian soup, which is a favorite of my husband's. Now that we're in May, soup season has long passed, but the ingredients for this hearty soup are very much in season. My Hungarian Mushroom, Leek, and Kale Pilaf still has the creamy and savory goodness of Hungarian soup but it's a little lighter, and it's brightened up with fresh spring leeks and kale.
Check out my gorgeous produce. The kale is from Jubilee Hill Farm, the mushrooms are from Mainly Mushrooms, and the Leeks are from Mickleys Orchard and Farm Market.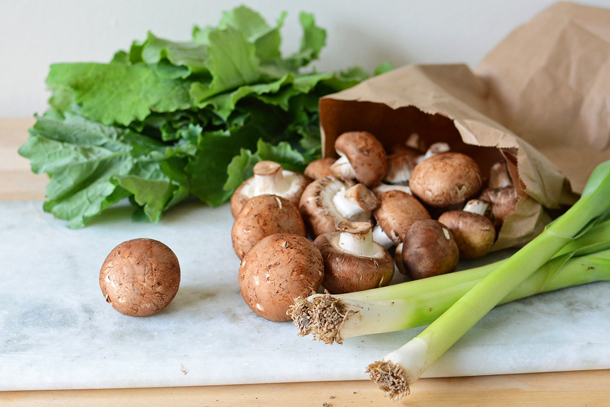 Always remember to soak your leeks so that you don't get grit in your dish!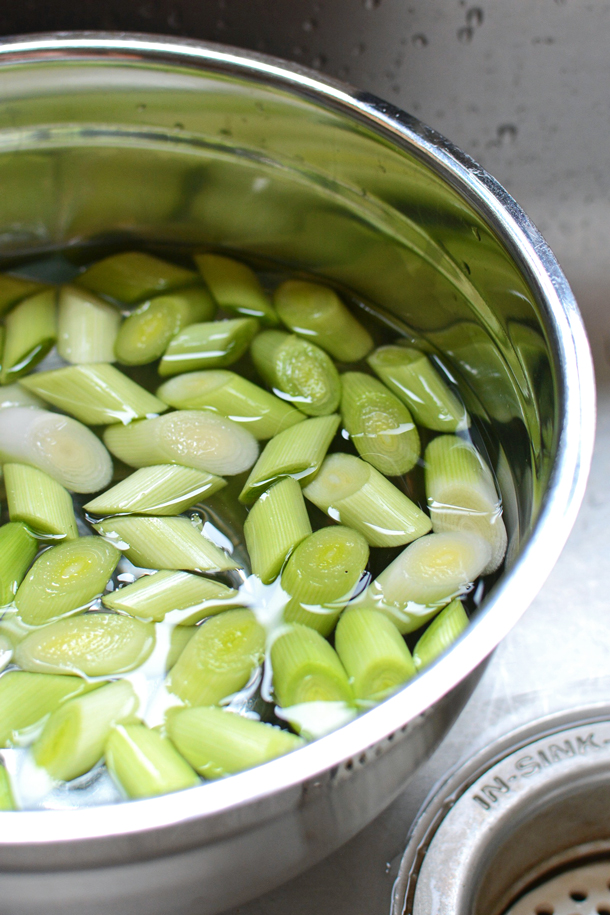 Rinsing your barley with cold water after cooking will stop the cooking process and remove excess starch, which will make a more al dente grain.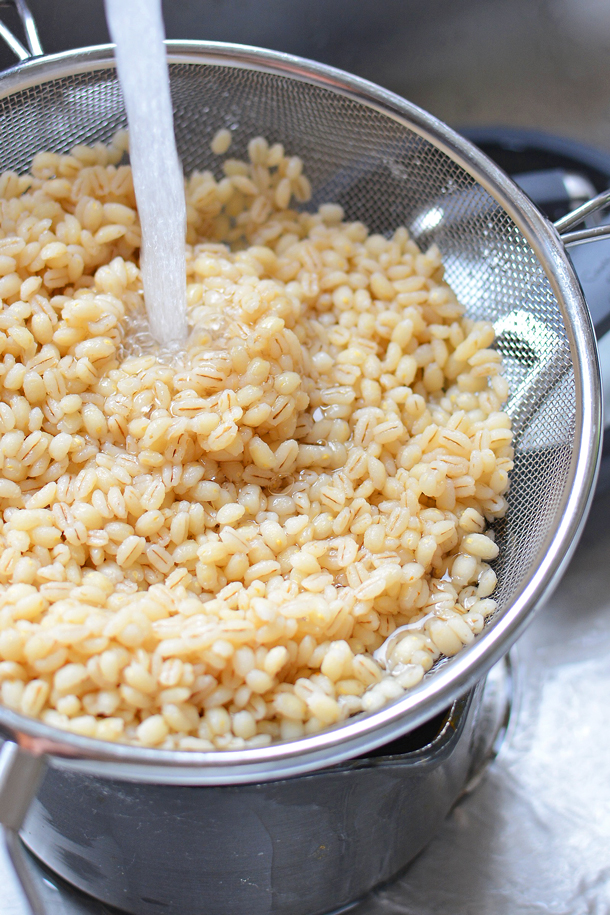 Wine, the secret ingredient. Actually, creme fraiche is, but shhh!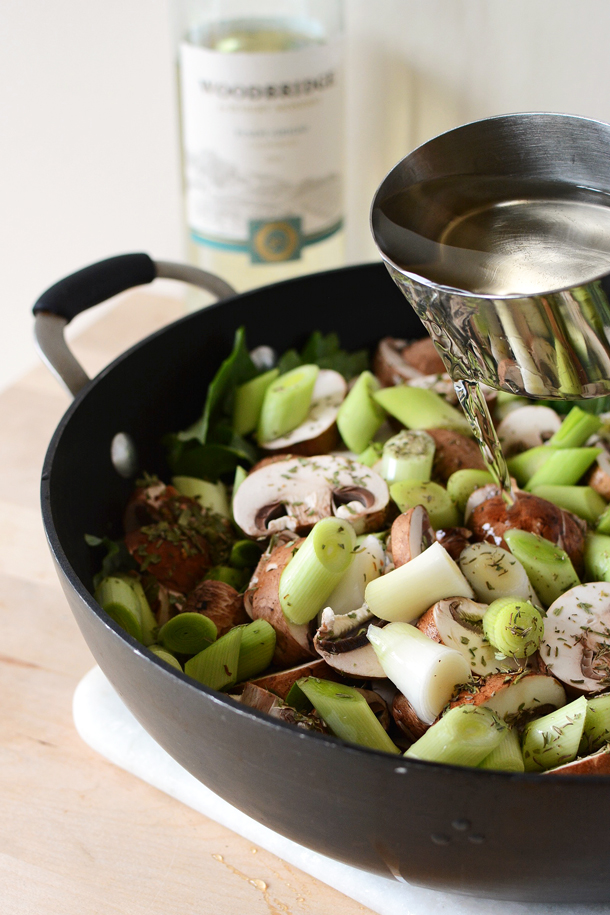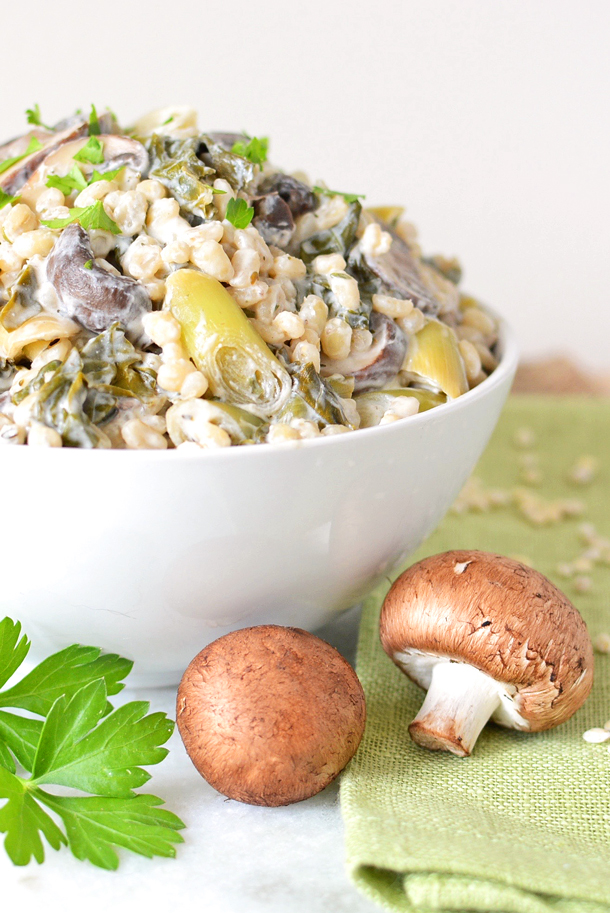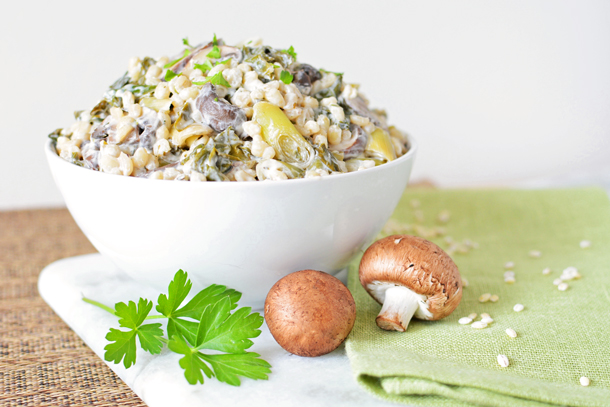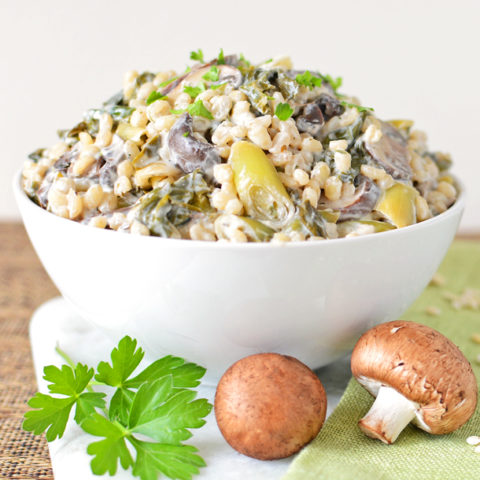 Hungarian Mushroom, Leek, and Kale Pilaf
Yield: 4

Prep Time: 20 minutes

Cook Time: 35 minutes

Total Time: 55 minutes

This hearty side has the creamy and savory goodness of Hungarian soup but it's a little lighter for warmer days, and brightened up with fresh spring leeks and kale!
Ingredients
1 C hulled barley
3 C low-sodium vegetable stock
3/4 lb cremini mushrooms
1 lb leeks
1 bunch kale (approximately 4 C roughly chopped)
1 1/2 tsp thyme
1 1/2 tsp tarragon
1/4 tsp salt
1 Tbsp olive oil
1 C white wine
1 C creme fraiche or sour cream for a lower fat recipe
2 tsp apple cider vinegar
Instructions
Rinse 1 cup of barley, then combine it in a saucepan with 3 cups of vegetable stock. Bring to a boil, reduce to a simmer, cover, and simmer for 20 minutes. After 20 minutes have passed, check for doneness every 5 minutes until it's al dente. The barley should be a little bit chewy in the center, but not hard. Next, rinse it under cold water and set aside until you're ready to use.
While your barley is cooking, it's a good time to prep your vegetables. For mushrooms, cut them into thick slices (about 4 slices per mushroom.) To prepare the leeks, cut the ends off and cut into bite-sized diagonals. Next, take care to wash them well by swishing the pieces in a bowl of water, letting them sit for a few minutes, and then swishing them again before draining and drying. Coarsely chop the kale.
In a large pan, combine the vegetables, thyme, tarragon, salt, olive oil, and white wine. Cook over medium heat until the mushroom and leeks are soft.
Once the vegetables are cooked, add the barley to the pan and cook until heated through.
Lastly, remove your pan from the heat and fold in creme fraiche and apple cider vinegar.
Nutrition Facts
4 servings per container
---
Amount per serving
% Daily Value*
Trans Fat 0g
Total Carbohydrate 57.1g
20%
Includes g Added Sugars
0%
Protein 13.9g
---
Not a significant source of vitamin D, or potassium.
---
The % Daily Value (DV) tells you how much a nutrient in a serving of food contributes to a daily diet. 2,000 calories a day is used for general nutrition advice.